Renowned economist Mr Kwame Pianim has recommended that regulators of the financial services industry should put in measures to improve the investment environment.
He stated that the Bank of Ghana (BoG) and the Securities and Exchange Commission (SEC) could help the investing public by making it mandatory that major on-site inspection findings on going concern, governance and liquidity concerns and ability to meet obligations are published alongside annual reports in the media.
"This will warn the public and raise red flags to potential risks ahead for the public investing with these fund managers," he said at a virtual investment dialogue series organised by Tesah Capital, an investment management company on the theme: "Investing in Ghana: My Journey and Lessons."
Sharing his experience on investment, he said investing was becoming risky and complex, so we needed fund managers and the public had to be protected.
"Working in an investment arena is exasperating, stressful but very fulfilling. Investing is transforming ideas and dreams into tangible assets and providing opportunities for others when blessed with success. As an investor and investment advisor, to walk around and see structures you have been a small part in the bringing into being is fulfilling even if the actualisation process was frustrating and stressful," he stated.
Mr Pianim said in order to restore confidence in investors to invest in banks after the collapse of some banks, coupled with an unstable economy, the BoG should pay attention and monitor smaller banks and insurance companies to avoid another loss of money.
"Confidence takes a longer time to be regained and that is why the central bank should dissect and investigate the affairs of smaller banks before given them licence to operate," he said.
Unleashing talents
Mr Pianim noted that investing was the cradle and incubator for unleashing the entrepreneurial talents of the nation.
Therefore, he said all must decide and agree that investors and entrepreneurs were national assets that must be nurtured and protected.
"The focus today is on Ghana as a beautiful, peaceful and amazing country with abundant resources (human and material) and opportunities with all its imperfections. The relative peace we enjoy is the envy of many. So, we muster critical mass and rise to our full potential and ease the constraints that militate against our investors," he said.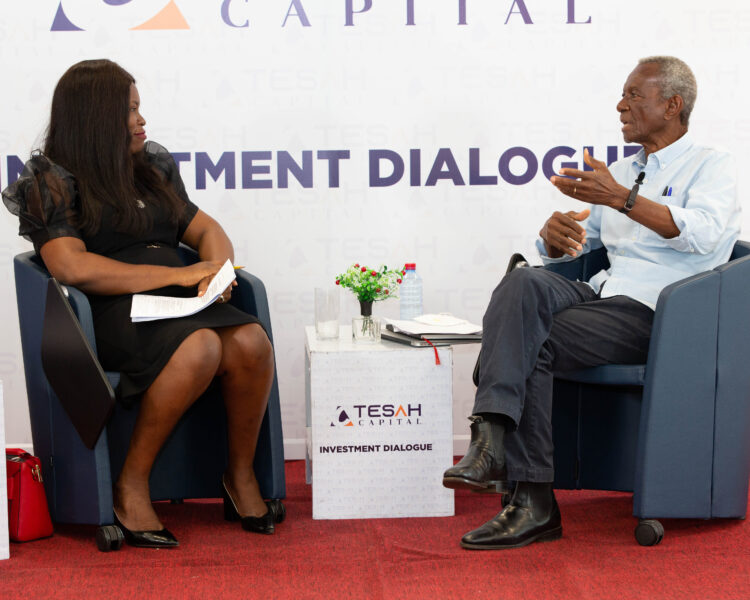 Financial literacy
Mr Pianim deduced that new entrepreneurs were increasingly women and the young in the financial technology (FinTech) and information communication and technology (ICT) space.
"They go there out of necessity to make a living but not because opportunities are there. Basic financial literacy training should be organised for them, including the ability to read and understand balance sheets and financial statement, so when they are working, they will know if they are increasing their wealth or accumulating it," he said.
He advised investors not be fixated on higher returns. "Concentrate on the little that the government can give you and you should make sure you invest in something which will earn you more than the rate of inflation," he urged.
Investment education
The Managing Director of Tesah Capital, Mrs Eugenia Basheer, said the dialogue was used to share knowledge on investment with the public and its clients.
She said the experiences of the company since its establishment 11 years ago presented a challenge to dream and grow.
She recounted that the journey had been full of successes, including having the privilege to work with some of the best corporate trustees in the country, and also in managing funds for individuals, groups, associations to achieve their investment objectives and also in growing their wealth.
"We look forward to a future where investors are empowered with the knowledge to make the right investment decisions or seek right help to make right decisions; a future where the investment process is simplified such that the ordinary person can invest at the click of the button, and a future where clients can trust that we will deal with them transparently and so their funds are safe," she said.
More importantly, Mrs Basheer said she hoped for a future where regulatory supervision, technology innovation and college converge to benefit the investor by creating an environment where everyone had a reason to invest.
"If you try to take investment actions without knowledge, you will fail. We encourage you to take advantage and begin your investment journey," she urged.
By: Ama Amankwah Baafi